Parallel Data
Digital transmission can occur in one of two basic methods: parallel or serial communication. In parallel communication, multiple bits (usually 8 bits, otherwise known as one byte) are transferred simultaneously on separate channels within the same cable, then combined and synchronized. This can result in a faster bit rate than serial transmission, but is also significantly more expensive (since it requires far more wires to create the cable) and the synchronization timing in parallel transmission is also susceptible to distance, making it impractical for longer cables. Parallel communication was popular in the 1980s but has generally fallen out of favor in modern data transmission.
PATA
Short for Parallel Advanced Technology Attachment, originally known simply as ATA until the later Serial ATA (SATA) standard was developed. An interface standard for the connection of storage devices, e.g. hard disk drives, floppy drives and optical drives. Given its maximum cable length of 18 inches, PATA is mostly limited to internal computer use, but it can occasionally be seen/used to connect to external drives.
Introduced: 1986
Max bit depth and rate: 16-bit; originally 16 mb/s, developed up to 133 mb/s
Connectors and ports:
Parallel SCSI
Referred to alternately as SCSI (Small Computers Systems Interface) Parallel Interface, SPI, or, before the advent of Serial SCSI, simply SCSI (pronounced "scuzzy"). Unfortunately, Parallel SCSI is not technically a single standard, but a series of almost a dozen related interfaces with ambiguous names ("Fast SCSI", "Ultra SCSI," etc.) and variable bit depths and rates. See the link to a comparison table below. In any case, Parallel SCSI cables were used to connect peripheral devices (scanners, removable storage drives and controllers, optical disc drives, etc.) to computers; unlike PATA, which could only connect a maximum of two devices, a single Parallel SCSI data bus could be attached to up to 8 or 16 devices. The symbol below generally marked a SCSI port on computers.

Introduced: 1986
Max bit depth and rate: See comparison table
Connectors and ports:
IEEE 1284
A standard for parallel communication variably, and more commonly, referred to as "parallel port", "printer port" or the "Centronics port", as it was originally developed by Centronics to facilitate communication between computers and Centronics-brand dot-matrix printers. Originally unidirectional ("send-only") for sending data from a computer to a printer, but later developed to allow for bidirectional communication, it became a popular alternative to Parallel SCSI for peripherals like floppy drives and network adapters and hard drives as it had cheaper circuitry. A symbol similar to the one below generally marked parallel/printer port connections on computers.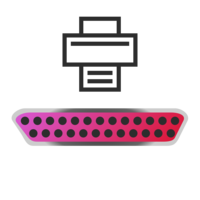 Introduced: 1970s
Max bit depth and rate:
Connectors and ports:
Serial Data
As opposed to parallel transmission, in serial communication bits are transferred sequentially over the same wire. Bytes must be assembled and sent as a unit and then disassembled by the receiving device. Though serial data transmission was developed before parallel transmission, parallel communication reigned for much of the late 1970s-1980s as physical performance limitations originally gave parallel communication higher data rates. Improvements in cable and circuit design have since made serial transmission the far faster and preferred option.
RS-232
Because it was the first serial data protocol to become a standard feature in personal computing, RS-232 was commonly referred to simply as "the serial port". It was used for bidirectional connection to many peripheral computer devices, including modems, printers, mice, external drives, etc. It was also used for remote connection and control of some VTRs. It is referred to as "RS" because it was originally sponsored by the Radio Sector of the Electronic Industries Association - changes in the sponsoring organization have caused the standard to be alternately referred to as EIA-232 and TIA-232. The symbol below sometimes marked serial port connections on computers.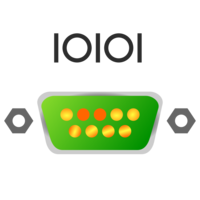 Introduced: 1962
Max bit depth and rate:
Connectors and ports:
RS-422
An improvement to the RS-232 standard to increase transmit speeds and/or maximum cable length. Introduced differential signaling to data cabling - a technique of reducing electromagnetic noise as it is transmitted over the wires in a cable, similar to balanced cables in analog audio.
Introduced: 1996
Max bit depth and rate: 10 Mb/s
Connectors and ports:
MIDI
Short for Musical Instrument Digital Interface, a standard for connecting a wide variety of electronic musical instruments to each other or to digital audio workstations. Though heavily/exclusively associated with audio, MIDI itself is not an audio signal - it is a data signal that carries "event information" to specify "control change" (CC) paremeters such as pitch, notation, volume, vibrato, timing, and other metadata that electronic musical devices use to *create* an audio signal and synchronize with each other. MIDI is usually employed in production and recording environments. As computer-based studio setups became more common, it became more and more desirable for MIDI devices to connect directly to a computer, rather than to dedicated MIDI devices. Existing connections for data streams were adapted to allow transmission of MIDI streams over more common, broader interfaces like serial buses, USB, FireWire, etc.
Introduced: 1983
Max resolution: 31.25 kb/s
Connectors and ports:
Serial Attached SCSI (SAS)
Serial Attached SCSI (SAS) replaced Parallel SCSI, using the same basic command set but replacing the transmission method from parallel to serial to improve transfer rate. Backwards compatible with SATA. Unlike Parallel SCSI, SAS is almost exclusively used in internal computer connections and data centers and very rarely found in use with peripherals.
Introduced: 2004
Max bit depth and rate: Originally 3.0 Gb/s, now up to 12.0 Gb/s
Connectors and ports:
SATA
Developed to replace Parallel ATA (PATA), Serial ATA is used to connect host bus devices to mass storage devices such as hard drives, optical drives, solid-state drives, etc. Generally found for internal connections in desktops and laptops, but used in some cases to connect to external drives as well.
Introduced: 2003
Max bit depth and rate: Originally 1.5 Gb/s, now up to 16.0 Gb/s
Connectors and ports:
Apple Desktop Bus (ADB)
A Macintosh-exclusive computer bus for connecting low-speed peripherals - mice, keyboards, etc. ADB connections were generally marked by the symbol below.

Introduced: 1986
Max bit depth and rate: 125 Kb/s
Connectors and ports:
PS/2
A PC-compatible low-speed computer bus for peripherals like mice, keyboards, etc. Its name comes from the IBM Personal System/2 line of computers with which it was introduced. Generally replaced older RS-232 connections employing DE-9 connectors.
Introduced: 1987
Max bit depth and rate:
Connectors and ports:
USB
Short for Universal Serial Bus, designed to standardize connections of computer peripherals after the proliferation of connections in the 1980s and early 1990s. Used with keyboards, mice, digital cameras, external drives, network adapters, etc. Capable of supplying power to many of these devices in addition to transmitting data. Updates to the original USB 1.0 standard (1.5 Mbit/s at Low Speed, 12 Mbit/s at Full Speed) have represented major shifts in data transmission, usually with accompanied changes in physical connection, so they are elaborated on more below. All advancements in USB have been backwards-compatible (so a USB 3.0 connection can carry USB 2.0 data, etc). Ports are also usually marked by the symbol below.

Introduced: 1996
USB 2.0
"High Speed"
Introduced: 2000
Max bit depth and rate: 480 Mb/s
Connectors and ports:
USB 3.0
"SuperSpeed"
In 2013, with the release of the USB 3.1 protocol, USB 3.0 was retroactively stylized as "USB 3.1 Gen 1". The two names refer to the same thing.

Introduced: 2008
Max bit depth and rate: 5 Gb/s
Connectors and ports:
USB 3.1
"SuperSpeed+"
Sometimes stylized or referred to as "USB 3.1 Gen 2".
Introduced: 2013
Max bit depth and rate: 10 Gb/s
Connectors and ports:
USB 3.2
"SuperSpeed+ 20Gbps"
The USB 3.2 specification introduced a new speed and transfer mode, but also, very confusingly, re-named its backwards-compatible transfer modes for older versions of USB. So, "USB 3.2 Gen 1" followed the same specification as USB 3.0 (aka "USB 3.1 Gen 1"), "USB 3.2 Gen 2x1" followed the same specification as USB 3.1 (aka "USB 3.1 Gen 2"), and so forth. Technically, only "USB 3.2 Gen 2x2" devices allowed for the new maximum data transfer rate. Please consult this breakdown of USB 3.2 if you dare try to sort this out.
Introduced: 2017
Max bit depth and rate: 20 Gb/s
Connectors and ports: No visible changes from USB 3.1 Type C connections.
USB4
Introduced: 2019
Max bit depth and rate: 40 Gb/s
USB4 cables and devices still use the USB Type C connector, but add (optionally) interoperability with Thunderbolt 3 products, and, in certain modes, a higher data transfer rate. There is no visible difference between USB 3.1, USB 3.2, or USB4 cables or ports. You can read more here. USB4 has broken me. Godspeed.
FireWire
Developed by Apple at roughly the same time as USB, for the similar purpose of consolidating connections and improving data transfer speeds. Unlike USB, FireWire does not require the use of a host controller (FireWire-compatible devices can communicate directly to each other without the use of a computer), but it was more costly to implement than USB and therefore never quite as popular. Sometimes referred to as i.Link (in Sony applications) and Lynx (Texas Instruments), as FireWire is technically just the Apple branding of the IEEE 1394 standard. Used for connections to external hard drives, as well as A/V component communication and control. Two major flavors of FireWire were introduced before Apple phased out development of the standard in favor of Thunderbolt. Ports usually represented by the symbol below.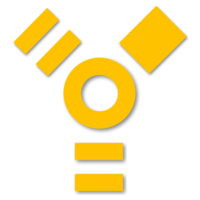 FireWire 400
"IEEE 1394a"
Introduced: 1995
Max bit depth and rate: 400 Mb/s
Connectors and ports:
FireWire 800
"IEEE 1394b"
Introduced: 2002
Max bit depth and rate: 800 Mb/s
Connectors and ports:
Thunderbolt
Developed by Apple as a replacement for FireWire. Combines computer bus data transmission with the DisplayPort digital video interface, as well as DC power, all over one cable/connection. The first two major versions of Thunderbolt shared a physical connector and had compatible wiring/channels, but the introduction of Thunderbolt 3 marked a major shift in physical interface. Ports are usually labelled by the symbol below.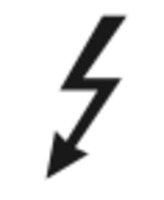 Thunderbolt 1 and 2
Introduced: 2011;2013
Max bit depth and rate: 10 Gb/s; 20 Gb/s
Connectors and ports:
Thunderbolt 3 + 4
Introduced: 2015; 2020
Max bit depth and rate: 40 Gb/s
Connectors and ports:
(Note on Thunderbolt 4:
Thunderbolt 4 introduced support for dual 4K displays and compatibility with USB4. Otherwise, the maximum data rate and use of USB Type C connectors remained the same.)
HDBaseT
A standard for the transmission of uncompressed HD video, audio, power, and/or networking and Ethernet connections.
Introduced: 2010
Max bit depth and rate: 10.2 Gbit/s (100 Mbit/s Ethernet)
Connectors and ports: